Bridging the gap between big tech's net zero aspirations and reality


Despite being on the forefront of innovation, many technology firms are still figuring out how to slash their carbon footprint. How can tech firms implement green strategies throughout their business?
The pressure is mounting on businesses to slash their carbon footprint, driving a flurry of net zero commitments. However, some firms are still lacking the fundamentals necessary to hit their ambitious climate goals and the confident vision is not translating to reality on the ground. Technology companies are no exception.

A bank of research and surveys have found that tech companies are struggling to define and navigate a strategy to meet decarbonisation targets. The 2021 KPMG Technology Industry Survey*1 found that half of the chief executives they asked heading technology companies do not have a decarbonisation strategy or targets.

Private firms are not making as much progress towards decarbonisation as publicly held firms – 61% versus 41% that do not have a plan.

"Sustainability requirements are largely the domain of listed companies, as well as large operators who are in the sights of regulatory authorities," said Veerappan Swaminathan, founder and director of consultancy Sustainable Living Lab. "A lot of smaller suppliers actually fall outside of that focus area."

Only half of global tech companies acknowledge climate change risk in their financial reporting, much less assign a quantitative impact to it, according to the auditing firm*2. Patchy regulation in regions like Southeast Asia doesn't help. Frameworks to regulate firms' commitments to decarbonisation are still at the draft stage in some countries. Enforcement is also a challenge where governance is lacking.

Companies that don't have a holistic approach to environmental, social and governance (ESG) issues could find themselves frozen from markets, Swaminathan said. Large giants that have supply chains ridden with alleged labour abuses have found their products banned in key markets*3. Tech heavyweights "will increasingly find that capital markets are difficult to access if they don't have these things. At the C-suite level, the question is how the intention translates to the rest of the organisation."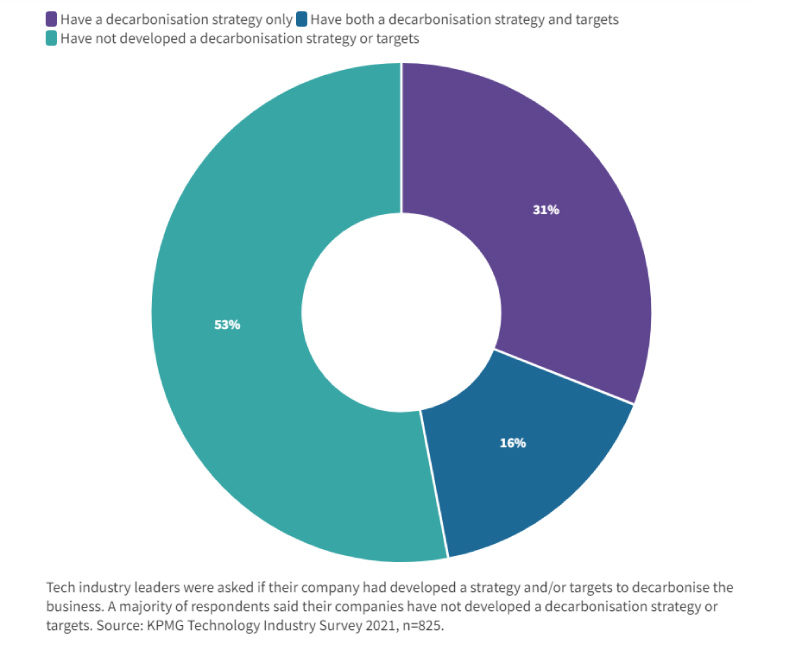 "Tech companies are still looking at climate-related strategies as a cost and have not determined how decarbonisation can actually generate revenue," according to Alex Holt and Mark Gibson from KPMG's technology, media and telecoms team. An effective net-zero transformation can unlock new markets, products and revenue, they argue.

The barriers to decarbonisation tend to be insufficient board and management engagement, investor focus on short-term goals, a lack of skills and necessary technology and the cost of decarbonisation. Meanwhile, the larger technology companies tend to have complex, decentralised footprints making measuring emissions difficult.

…procurement departments must realise that they are not in the back office. What they do has an impact on the entire ecosystem.
Veerappan Swaminathan, founder and director of consultancy Sustainable Living Lab

Take Amazon – best known for its e-commerce platform that started out as an online marketplace for books — now operates in 13 countries, shipping worldwide to more than 100. The tech giant's carbon footprint grew 19% in 2020 amid the pandemic. That forced physical stores to shutter and limited shoppers to desktop purchases. According to Amazon's latest sustainability report*4, published last July, its absolute carbon footprint during 2020 was 60 million metric tonnes. Israel produced less than*5 this in 2020.

The American tech giant has committed to be net-zero across its business by 2040 despite admitting it could take "several years" for its absolute emissions to fall.
Reining in tech's carbon footprint
As pioneers in innovation, there is plenty tech firms are doing to drive down their impact on the environment. Data is key and while there is room for improvement, most technology firms now report on sustainability, according to a survey*6 of 5,200 companies between 2019-2020.
While it isn't a means to an end, disclosure facilitates the transparency of a firm's efforts to hit climate targets. There are several reporting frameworks available:
Global Reporting Initiative (GRI) standards.
Task Force on Climate-related Financial Disclosures (TCFD) recommendations.
Sustainability Accounting Standards Board (SASB) guidelines.
United Nations Sustainable Development Goals (SDG) blueprint.
World Economic Forum (WEF) metrics for reporting on sustainable value creation.
Japanese tech and electronics giant, NEC, operates across a raft of sectors – from 5G and artificial intelligence to smart cities and technology to underpin safety on and offline. It has also set an ambitious net zero target by 2050.
The Tokyo-based company is one of the few tech firms that report climate risk in line with the Task Force on Climate-related Financial Disclosures (TCFD) recommendations. NEC is aiming to reduce its scope 1 and 2 emissions — that is, its direct and indirect emissions — by 55% by 2031 using 2018 as a baseline. The firm has also set targets in Scope 3, working with suppliers and customers to drive down greenhouse gas emissions.
With more essential functions being moved online and the growth of cloud computing, streamlining the carbon emissions of technology providers has become more important. Customers are setting stringent ESG and decarbonisation targets — with the expectation that their service providers will do the same to help them achieve their goals.

Decarbonisation efforts by tech firms, have largely focused on reducing energy consumption. They are also are looking to procure renewable energy, improve energy efficiency and adopt carbon offsetting.

Opportunities to decarbonise can be tapped throughout the value chain. NEC uses the GreenGlobeX cloud service to collect and analyse environmental data such as energy usage, greenhouse gas emissions and water consumption to gauge the performance of corporate plants and offices. This enhances the report function for ESG surveys to bring greater transparency and accountability.

Smart, autonomous artificial intelligence can be employed in data centres, for instance, to optimise monitoring, benchmarking and scenario analysis. Monitoring software can help identify where energy is being wasted and help to regulate the temperature, humidity and cooling. Eventually, with machine-learning, data centres could operate with very few people working in them and potentially - on a 'lights-out' system.

Carving off waste in supply chains will also drive down a firm's impact on the environment. "If you want to create change, then procurement requirements need to change," said Swaminathan. "The key is that procurement departments must realise that they are not in the back office. What they do has an impact on the entire ecosystem."

Supplier training programmes can help existing suppliers to ensure they become more efficient in their own operations and that they can report on and hit the sustainability benchmarks set by their customers. Industry experts believe that requirements for suppliers, traditionally outside the gaze of regulators, will increasingly feel the heat to comply with stricter ESG measures.

Hitting decarbonisation targets also requires a mindset change. Incentives might help. While still in the minority, some technology companies are implementing renumeration incentives for directors to achieve decarbonisation targets. Larger companies seem to be leading the charge*7.

Another aspect is investment. Embracing sustainable procurement is costly. For example, it might require the acquisition of an entire fleet of electric vehicles to decarbonise last mile delivery. Cleaning up power supply requires investment in renewables. Some corporate titans are going beyond their carbon pledges and investing in climate technology. Energy Monitor, a clean-tech site, said that between 2017 and 2020 such corporate venture investment surpassed US$58 billion.

Companies such as Amazon, Energy Impact Partners and General Electric have all waded into the space. Microsoft, the software giant founded by Bill Gates, set up a US$1 billion climate-tech fund. Amazon launched one worth US$2 billion backing start-ups such as one which injects carbon into cement and a hydrogen-fuel-cell aviation firm.

"Oftentimes, companies are not willing to take the plunge to make the long-term investments required. But they must be prepared to play a long-term game. The cost of not doing something is very high", said Swaminathan.