SAP S/4HANA
Midsize business, available in 6 months*

SAP S/4HANA is a comprehensive ERP solution fully built on the most advanced in-memory platform called SAP HANA. It is a successor to SAP ECC or SAP Business All-In-One. This solution is integrated, affordable, and designed to fit your needs – both now and in the future. You can add CRM, SRM, BI, and other functionality at any time to scale the solution as your needs change. With SAP S/4HANA, you can take full advantage of the Internet of Things (IoT) and Big Data. It is also a comprehensive solution designed to drive your entire enterprise in real time.

Our existing clients include companies from Retail, Engineering, Oil and Gas, and Agriculture.
SAP BUSINESS ONE
Small business, available in 4 weeks*

The SAP Business One application integrates all core business functions across your entire company – including financials, sales, customer relationship management, inventory, and operations. Unlike many other small business solutions on the market today, SAP Business One is a single application, eliminating the need for separate installations and complex integration of multiple modules.

Our existing clients include companies from Retail, Consumer Product Goods and Engineering.


Below is brief comparison of SAP On-Premise and On-Demand ERP: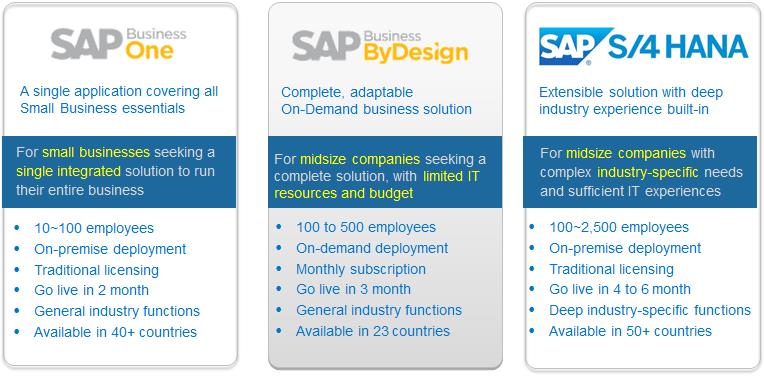 * Duration mentioned is just guidance, subject to change depending on the complexity of the requirements.