Driving New Normal Digital Transformation with Next Generation Transport



During the pandemic in Malaysia, telco operators in Malaysia have seen an upsurge in data traffic since the Movement Control Order (MCO). More than 30% of traffic increment during MCO 1.0 and another 15% of traffic increment during MCO 2.0. As a social value-creating company, we at NEC believe that, whatever the circumstances, people will always maximize their potential, and that the synergy of people and digital technology will always reap maximum benefit. However, that benefit must be inclusive and that's why NEC is now more determined than ever to use our IT, network, and AI expertise to help guide this new normal, and accelerate the digital transformation of companies, communities, and countries in such a way that will guarantee safe, secure, fair, and efficient living for all in a post-COVID world.

Connectivity and personalization are vital to the development of inclusive digital power. In other words, the ability to instantly connect and distribute all kinds of data volumes and create meaningful individualized value from those data. For more than 120 years, NEC has developed global communications technologies spanning satellites to submarine cables with the same motivation: to connect anyone, anytime, anywhere. Today, vast amounts of digital data move across borders, supported by high-capacity optical communication technology on submarine cables. Now, for the first time in the world, NEC will apply optical AI technology to achieve high-speed, low-power, low latency data transmission and help expand capacity.

With 5G coming online globally, NEC is looking to accelerate digital transformation by facilitating commercial services that take advantage of 5G networks offering high-density ultra-multi-connections and real-time ultra-low-latency communications. In addition to building 5G networks to connect equipment, data and people, NEC is also using its advanced AI/IoT technologies to derive data insights and support long-term network utilization for maximum value creation. At the same time, we are developing dedicated local 5G networks for companies and organizations that provide isolated, quality communications tailored to unique needs that can help realize innovative business ideas.

With the new normal, where work and study are being done remotely via a hybrid manner, the surge in traffic places telecommunication operators in a predicament of planning and rollout capacity expansions of their transport network, while at the same time, managing traffic flow in a manner that would optimize the service experience of their end users.

While additional capacity is being deployed, it is essential that telecommunication operators be able to manage end users' experience by prioritizing the transport of data packets according to the service experience valued by end users. Case in point is the higher perceived value in quality of experience related to online meetings and online learning. Successfully pivoting to support this valued experience will mean an elevation of trust and loyalty in their customer base. A transport network solution that is Quality of Service (QoS) aware is essential to allow operators to manage users' experience while additional capacity is being rolled out.
Capacity augmentation is not without its own set of challenges. In densely populated areas, the go-to transport medium is optical fiber. Laying down additional fiber cables in response to capacity crunch is time consuming, and expensive. Telecommunication operators are therefore constrained to eke out whatever capacity is available from their existing fiber infrastructure, be it owned by themselves, or dark fiber leased from facilities provider.

As the nation moves to embrace digitalization of services, the rural communities tend to get left behind. Slow broadband services have been publicly highlighted – especially with students from rural community going through lengths just to be able to join online classes. Operators can be part of the solution, by expanding their infrastructure to reach into rural communities. Choosing transport solutions that can be rapidly deployed is key.

Microwave transport system that is highly reliable and fast to deployment should be key considerations since the system will be placed in hard-to-reach geographical locations. Another important aspect is the adaptability of the system to changing climatic conditions – enabling a minimum designed service level to prevail in poor conditions, while providing exceptional experience in good conditions. These provide operators with an opportunity to be partners in closing the digital divide.

Finally, a transport solution that is ready to support future systems protects operators' investment. While transport solution is being rolled out to address capacity demand observed on today's broadband systems such as 4G/LTE, operators need to consider if a chosen solution will be fit for use in the 5G era.
What is Required for Telecom Network Transport in the 5G Era?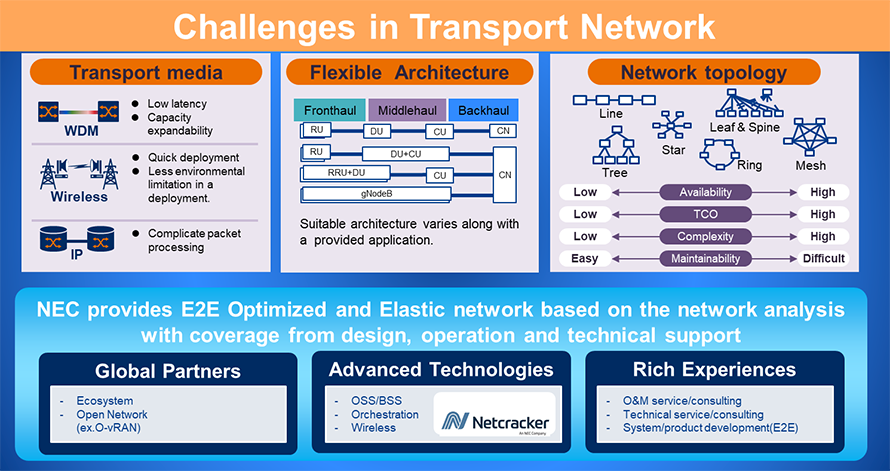 Well-known features such as high speed and high capacity, ultra-low latency and multiple simultaneous connections are required in order to realize 5G application. NEC, a wireless, x-haul transport vendor, contributes to 5G and Beyond 5G realization by utilizing Tera-bps class high capacity transmission applications such as E-band, D-band or OAM technologies. NEC continues to provide high- quality, intelligent products and solutions as an industry-leading company.

Significant architecture changes may not be required for telecom transport networks unlike the Radio Access Network (RAN) space where massive evolution is required. However, as a variety of people and things are increasingly being connected to the internet, including Internet of Things (IOT) devices, traffic demands are becoming diversified. The required function of transport networks is changing in tandem, and a much higher network performance than what 4G could deliver is now required.

Service Providers need to address the following challenges for deployment of a 5G-ready transport network.
Flexible and efficient network evolution from 4G to 5G, while minimizing deployment cost.
Selecting the best network architecture, topology, and product, which can coexist with legacy networks.
Avoiding complicated network operation and management.
NEC is supporting deployment of 5G-ready transport networks efficiently and effectively, with the combination of global partners' products and NEC's own products in an open ecosystem in accordance with customer demands and requirements. This covers network design, technical support, and network operation through our rich experience with telecom operators in Japan and across the world.
Use Case of 5G-ready Network Migration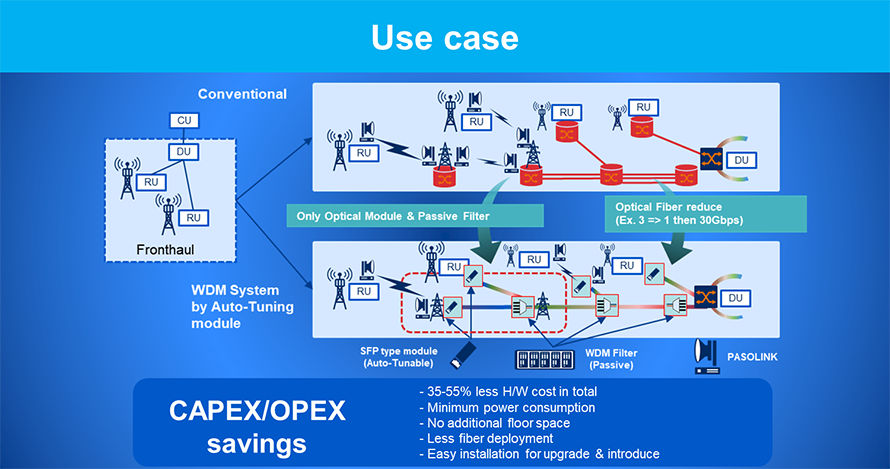 NEC has its own product hardware-based front haul solution in addition to its role as a system integrator enabling an open ecosystem.

NEC has the capability to consult Communications Service Providers (CSPs) by creating transport network migration scenario designs and best-of-breed proposals based on customer requirements through its rich experience and technical expertise as a hardware supplier.

In this use case, NEC created a transport network migration scenario by simplifying the network with a wavelength-division multiplexing (WDM) filter and small form-factor (SPF) pluggable type module, minimizing the number of nodes. This also enables scalability to easily increase network bandwidth in future.