The Fourth Industrial Revolution (4IR) is already upon us. The global economy is being fundamentally transformed as a result of technological breakthroughs, cutting across the physical, digital and biological worlds. Emerging technologies such as automation, robotics, artificial intelligence (AI), machine to machine (M2M) and the internet of things (IoT), are changing the way the world operates. Most recently, these technologies have assisted in the global fight against the COVID-19 pandemic. The possibilities are endless.

The Fourth Industrial Revolution (4IR) was launched recently to complement MyDIGITAL – i.e. the Malaysia Digital Economy Blueprint in driving the growth of digital economy for Malaysia. The policy serves as the guiding principle for Malaysia to stay ahead of the 4IR curve. The power of science and technology should be harnessed to drive development, progress, and prosperity, now and in the foreseeable future. Malaysia needs to take advantage of this window of transformational opportunity, to uplift its people, businesses and government. The 4IR policy emphasizes five foundational technologies, namely:
The policy also states key focus sectors for deploying 4IR technologies to deliver benefits to the people and creating new socioeconomic growth opportunities for the economy.
Manufacturing has always been the key sector contributing to the growth of the Malaysian economy. However, there are still many challenges facing the industry such as:
Shortage of human power
Quality control of product
Monitoring of equipment efficiency
Safety of the workers
Supply chain monitoring and management
As the problems related to labour shortage and skills transfer become more acute, manufacturers must adapt to mass customization. At the same time, the wave of digitalization has swept across all industries, leading to intercorporate collaboration and generating a continuous stream of competitive new innovations. In this chaotic and rapidly evolving environment, the sudden emergence of COVID-19 pandemic has been ratcheting up the uncertainty―disrupting supply chains, restricting the movement of employees, and making future planning more difficult than ever.

The "new normal" has seen the emergence of fresh challenges all the time. The manufacturing industry, in particular, is facing pressing demands such as the need to reconfigure factories to adapt to changing workstyle expectations, review supply chains to optimize reliability, and adapt to rapid fluctuations in product demand, not to mention the necessity of continuing to address more conventional issues such as quality, cost, and delivery.

In NEC, we always focus on creating new values in making the world brighter by leveraging the digital technologies such as Artificial Intelligence (AI), Internet of Thing (IOT), Facial Recognition (FR), Big Data and others. By leveraging these technologies, we are providing solutions to address challenges faced by manufacturers, which are:
People tracking for safer facility traceability
Equipment efficiency monitoring and analytic
Product quality control automation
Stock inventory monitoring automation
NEC's Connected Manufacturing platform brings innovation to the manufacturing industry by integrating cyberspace and the physical world.

The concept of Connected Manufacturing centered on the smart factory concept includes the digitalization of factory and supply chains and a product innovation concept that promotes a transition from a seller of things to a seller of experiences.

The Connected Manufacturing delivers the digitalization of factories by speeding up and autonomizing QCD (Quality, Cost, Delivery) improvement through the utilization of digital data, by automating production lines, and by automating and enabling remote operations indirectly related to manufacturing.

Furthermore, by automating and autonomizing the entire supply chains, the management can allow human operators to focus their efforts on perceptual judgments and decision-making. Together, these elements can create an operational environment better able to cope with the ebb and flow of demand. Also, our vision goes even further. We will take advantage of digitalization to help consumer goods manufacturers execute marketing tasks and predict demand, industrial goods manufacturers to perform quality assurance and new material development, and contractors to improve the productivity of workers.

The product innovation concept uses digital data to transform business models in service and sales areas.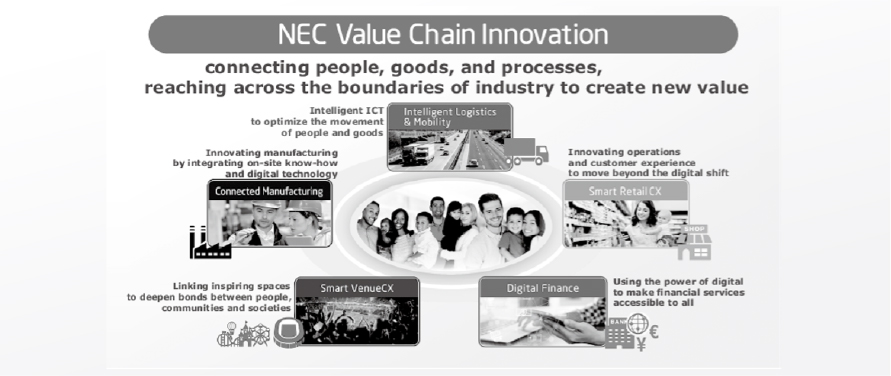 As we digitalize, NEC has been promoting a future manufacturing concept that brings the smart factory into being with digital technology called the NEC DX Factory. Embodying NEC's commitment to IoT and AI, the NEC DX Factory digitalizes all processes from design to manufacturing, shipment, and logistics, simulating them in a virtual space, then feeding them back physically to generate manufacturing innovations.

We have launched the NEC DX Factory Co-creation Space at our Tamagawa Plant, Japan. At this space, which embodies what we have discussed above, we discuss the future of manufacturing with visitors while letting them experience our next-generation manufacturing lines. Customers from more than one hundred companies have already visited, and we are now looking at more specific manufacturing innovations.

Indeed, 5G in Malaysia is a major technological innovation that will drive the further evolution of the smart factory which leads to additional breakthroughs. 5G features such as ultrahigh speed, ultralow delay, and simultaneous multi-connectivity will accelerate the digital transformation (DX) of the manufacturing industry.

At NEC, we believe that the 5G-based factory of the future should be oriented around optimization of production lines and the way people work. Progress will be data driven and supported by automation and wireless technology, minimizing the need to significantly alter layouts and staffing in production lines even when there are major changes in product types and production volume change.
The incredible speed and power of 5G will also support remotization and remote control of various procedures, enabling staff to manage the site from home or remote office; in other words, it will be possible to easily perform tasks that were once stressful and physically demanding from a comfortable environment.

These efficiencies will positively impact the labor shortage in the manufacturing industry by making it possible to work more flexibly in ways that have not existed before. We believe this is the way humans and robots should work together in the future.

While the working-age population continues to be restricted imposed by the "new normal" that affects the ability to work on-site, NEC aspires to utilize advanced technology and data to transform factories into attractive workplaces where labour shortage is no longer a primary concern and workers can attain a sense of fulfillment. It is our hope that the information digitalized within the factory will extend beyond its four walls to the community and has a positive impact not only on manufacturing, but on people's lives.

At NEC, the future is our focus and we are determined to maintain our commitment to achieving a Connected Manufacturing where people can work comfortably and to supporting our customers in their efforts to achieve their own goals through the use of our digital technology.
NEC is recommending manufacturers to look into the following seven key steps in order to be a Connected Manufacturing.
1. Identify needs and goals
Having a decision to proceed to be a Connected Manufacturing is not enough. As with any equipment or technology investment, the "why" is critical to making sure that you are investing in the right areas. We need to understand that Connected and Smart manufacturing will be implemented in phases. So before, taking the first step, identify the priorities and goals that you need to achieve and the timeline of that expectation. Aiming to quickly boost your maintenance efficiency will require different technology than increasing production.
Rationalize processes and lines of flow as the standard to follow. Integrate automation devices into the smart production line so all procedures follow consistent standards to enhance both capacity and yield rate.
You make look into investing in data analysts and upskilling existing workforce to turn the data collected into something usable and valuable. This is also an area where training or lateral movement from your existing personnel can be an option. This is also an area where outsourcing expert technical talent is an option. NEC provides end-to-end consultancy to support you in this area.
4. Cyber-physical integration
Integrate Information Technology (IT) and Operational Technology (OT) systems and work for seamless information exchanges between the two systems to generate more value. Sensors and monitors play a key part in enabling the Connected Manufacturing and will likely be a new purchase requirement for you to get up and running. You may also need infrastructure upgrades (such as increased Internet and network i.e. Wired and Wi-Fi bandwidth, SD-WAN between branches), as well as computer equipment whether on premise or in the cloud to store, analyze and manage the large amount of data that will be collected.
Leverage self-detection for errors and transmit information to adjust and ensure target yield rate and capacity. Create modular production lines that re-arrange workstations according to order requirements for rapid line change-over and maximised production efficiency.
With newly connected devices, do not overlook this important aspect of the Connected Manufacturing and take appropriate precautions to ensure your value able data is protected.
Analyze and use the data. Constant review and finetuning the real-time aspect of the data collected is one of the most useful aspects of the Connected Manufacturing — enabling in-process adjustments and changes, as well as much earlier notice of maintenance requirements. Be sure to take advantage of this benefit, rather than using data after the fact — which will still yield benefits, but not to the extent that is possible.
In summary, NEC provides the entire end-to-end consultancy, implementation, and deployment to partner with our customers to co-create Connected Manufacturing to realize the benefits of 4IR.

Please reach out to us. We will be happy to walk you through the journey of becoming a co-creator of Connected Manufacturing.