NEC iQuarantine App for Returning Students

NEC technology to enable safe return of international students
Industry:

Government / Public sector
Project lead NEC New Zealand have proposed an end to end quarantine approach to the Ministry of Business Innovation and Employment to develop and deploy a pilot programme for a managed quarantine solution that will help New Zealand to safely open its borders to international students.

The solution will help breathe life into the NZ$9 billion New Zealand export education sector, after the country closed its borders in its early response to the global Covid-19 pandemic.
At the heart of the solution is

NEC iQuarantine, a locally developed self-isolation check-in and case management system created recently by NEC New Zealand and local partners.

The quarantine platform incorporates a smartphone app and uses Bluetooth which makes it easy to use for both students in self-isolation as well as health and education professionals.

The solution includes pre-arrival checks, physical test results digitalised and integration with Air New Zealand to understand supply and demand. As part of the user agreement all data collected that could be deemed relevant to the spread of Covid-19 in New Zealand would remain the property of the New Zealand Government.

The app is also compliant with all New Zealand privacy and other relevant laws, with users required to agree to sharing their location and personal health data before being enrolled.

It helps users track the number of days they have been in self-isolation and will alert them through a push notification immediately with any information they need to be made aware of.

Students who develop symptoms in self-isolation are identified as part of the required regular check-in process, which is to include a Ministry of Health approved health self-assessment.
What could this mean for the economy?
Neille Bonner, Managing Director at NEC New Zealand, says the Government's future decision around how the Government opens the border will mark a turning point for the country in its response to Covid-19.

"After being so successful in our response to Covid-19, the time is right to plan for the opening of our border in a way that reduces the risk of additional exposure to our shores.

"We are excited and hopeful that we will be able to partner with the Government, and education providers to leverage our world-leading technology to enable New Zealand to safely re-open its borders in this way.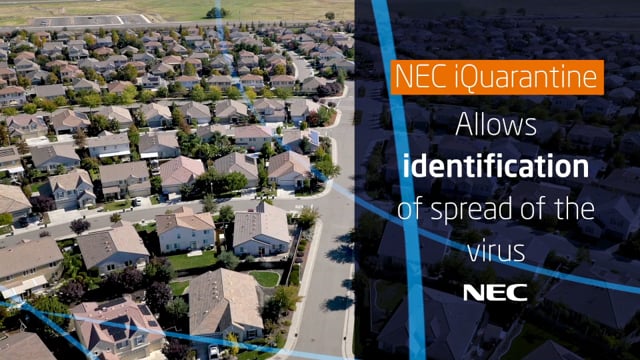 What could this mean for international students?
"Our system enables tertiary education organisations to undertake a monitored 14-day student-managed quarantine period and regularly check-in with an easy to use mobile app, and Bluetooth monitoring solution after first entering the country," says Bonner.

"We have engineered our solution to be flexible so that it can incorporate measures such as geofencing to provide immediate alerts if high-risk users, such as those who have reported having potential Covid-19 symptoms, move outside their agreed isolation residence."

In addition, the solution can easily incorporate a simple colour-coded indicator to let users waiting for test results to see, at a glance, how much time has elapsed since being tested.

"For example, the testing status could change from green (the day the test we submitted) to amber after three days. The timing would need to be aligned with the testing efficacy the Ministry of Health is targeting.

"This could help users and those monitoring them to better monitor and manage risk and help users in particular to ensure they maintain social distancing until the light is green." Steven Graham, GM Innovation at NEC New Zealand says these sorts of measures would only be deployed if there was a public health risk and would require prior agreement by students when they enrol in the system.

"The solution could also easily incorporate Bluetooth capability to give immediate alerts to students who come within close proximity of another user identified as being at high-risk.

"The technological flexibility of the solution also caters for the incorporation of 'Fitbit' reminder bands, which provide immediate alerts and location tracking if required," he says.
What does the future hold for iQuarantine and the return of international students?
Graham says there has been an overwhelmingly positive response from the export education and aviation sectors, which are part of the working group to validate assumptions and provide feedback throughout the pilot programme.

He says there have also been discussions with leading tertiary education providers about including features that monitor and assess the wellbeing of students who are enrolled.

"This could enable the relevant tertiary organisation to get in touch with a student to give advice or guidance if the student concerned was experiencing reduced health or wellbeing.

"I look forward to working with representatives of the many organisations that will benefit from the roll-out of a trial with a view to putting in place an enduring, and effective solution.

"With the support of the Government, and New Zealand's team of five million I believe this solution is one that can help our nation to re-establish a key pillar of its export economy.

"And by bringing back the $750 million that international students spend every month across tourism and other sectors, it could well be the spark that leads to a sustained recovery."