Gearing New Malaysia with Digital Inclusion and Beyond
The NEC's Senior Management Desk
This article is contributed by
Mr. Chong Kai Wooi
Managing Director of NEC Corporation of Malaysia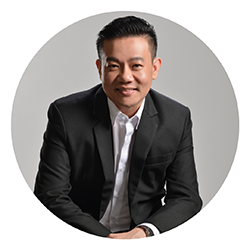 The word digital is as familiar to us today as air and water, but familiar commodities also have the power to induce paradigm shifts in society. The power of digital has already generated momentous changes such as self-drive cars, sharing economy and blockchain, and we will likely witness many more as digital transformation flourishes.

The network of networks, clouds, big data, smart chips, the internet of things, and of course artificial intelligence have accorded us the power to permeate all areas of life. Rich or poor, no country can afford to be left behind. It is estimated that 74% of the world population of 7.5 billion people and still counting are living in cities and the number of inhabitants is set to increase to 90% in a few more decades.

Currently, about half of the world population lives in cities of developing countries. Over here in Malaysia, over 70% of our populations lives in the cities in Malaysia and it will rise to 90% in the next few decades. With such high density of people thriving in cities comes the plea for a better standard and quality of living. City folks faces many challenges including economic opportunities, efficient transportation, crimes, dilapidated infrastructures, diseases, scarcity of resources, and many other problems.

A better quality of life in a city, a greater economic growth can only be achieved when the root cause of suffering is identified and eliminated. However, the prize for such a city is not a lucky coincidence but a concerted effort between the government and corporate enterprise and its population, leveraging the power of digital inclusion and identification by employing the use of advanced technologies such as Cloud, IoT, and AI to enhance their daily operations and coordination of services.

We have tremendous opportunities to reinvent society and how we want to live, moving forward. Digital technology has open myriads of opportunities, potential that are beyond our imagination. On a daily basis, we have new innovations that can brighten up our lives, not just from big corporations and MNC, but from individuals, students that tap into the vast network of technology and digital tools available on the internet. Given the agility of these digital tools today, societies, governments, enterprises can scale new capabilities that increase efficiency, productivity and creativity. Reports have shown that every 1% of digitalization will add 0.5% GDP growth to the digitalizing country with the increase of efficiency, productivity and security. We believe safety is paramount to the success of a city. The challenges with all these technologies would be how to leverage it and create an outcome that benefits our daily life. We have worked with many governments and city officials around the world to free up valuable resources instead of repeating repetitive task to better serve the people. Cities and governments can provide basic government services around the clock, with faster and more accurate turnaround time. The additional capacity of human resources saved will be channelled into advancing and promoting new economic opportunities.

Over here in our country, we have seen many areas where as a nation we have gone digital. Some areas of concerns, however are that we still have many silo deployment and there is still a lack of orchestration across different agencies and therefore, a lack of cross leveraging on the investments already made and potential wastages.

An example would be our identity, the fact that we need to register individually every single time we access separate government services. Imagine if every banks and company including conveniences store in Malaysia introduce its own biometrics system; there will be a lot of enrolling happening, which can make the identification process very inefficient. We can save a lot of efforts and cost by having a single digital identity and a single national biohub that validates all the information required from a person to prevent repetitive process from happening.

The process of digital inclusion includes a digital replica of physical assets (physical twin), processes, people, places, systems and devices that can be used for various purposes. The digital representation provides both the elements and the dynamics of how an Internet-of-things device operates and lives throughout its life cycle. A person's identity need to be safely and accurately replicated in the cyber world. A digital ID is an electronic equivalent of an individual's identity card. A digital ID can be presented electronically to prove an individual's identity and his or her right to access information or services online. This is made possible with the aid of biometrics technology which traditionally only have fingerprints -- now it includes advanced and perfect Facial Recognition and Voice recognition, leveraging on the ubiquitous Smart Devices that almost everyone has access to.

Digital inclusion is a way that the society is driven by digital connections such as the way we bank, shop, apply for a job and even find love have moved online. Despite this, the way we prove our identity has not changed, still stubbornly clinging to paper and cards. Those of us who have recently been asked to provide copies of our passport and utility bill when opening a new bank account or taking out a new mobile phone contract, understand the lengths that organizations go through to incorporate old world identity processes into their new digital services. The traditional method of proving one identity is outdated and not secure which can reveal more personal data than necessary and ID documents can easily be lost, stolen or damaged, putting us at risk of identity theft. Furthermore, we can't be 100 per cent sure of the identities of people we meet online.

The real-world benefits from having an accepted and recognized identity. That is why the concept of a digital identity is being pursued around the world, from Australia to India and our neighbouring countries are announcing their Digital ID and eKYC plan this year. In our country, it is heartening to hear our Minister of Communication and Multimedia, YB Gobind Singh Deo announcing Malaysia Digital ID as one of his priorities. The Ministry priority was shared as well by the then MDEC CEO, Datuk Yasmin during the Jameca-Majeca Nov 2018 Business Forum in Tokyo attended by business entrepreneurs and government officials from both Malaysia and Japan. The recent announcement of Digital ID for Malaysian will drive the adoption and use of digital services as it will make it easier for citizens and foreigners to sign up for and access online services, provide the ability to obtain informed consent, and streamline the processes across a variety of industries such as government, healthcare, financial services, and eCommerce.

The introduction of a secure digital identity system allows people to prove their identity without showing paper documents, confirm the identity of people they meet online, and log into websites securely without passwords. It can help strike the balance between security, privacy and convenience, and make online and offline interactions safer for both individuals and businesses.

There is always a restricted thinking that Digital Identity only exists to cater to the need of financial services. But digital identity is not only relevant to financial services. Think about the public services that require proof of identity: national security, government subsidies, education, healthcare, polling, public surveillance and more. Proof of identity is also necessary in many aspects of private commerce, such as buying cigarette and alcohol, renting an apartment, and purchasing a car. All these exposures puts people and organizations at risk. When it comes to physical identity systems, the risk of theft and fraud are always in our minds.

Given the growing volume of high profile data breaches over recent years, a digital identity system offers a secure alternative and many companies are already turning to biometrics such as facial recognition with Artificial Intelligence (AI) in a bid to combat fraud, increase security and enhance the customer experience. They are no longer having to remember passwords and they can appreciate the ease and simplicity that biometric technology can offer.

The interface between digital identity and big data analytics with the application of biometric empowers public safety. Despite the advancement of public transportation, by and large Malaysians are neither safe travelling at night nor strolling alone in the streets for fear of being robbed, raped, kidnapped, or mugged. With the implementation of Digital Identification, the fear of being vulnerable and becoming victims of crimes will be things of the past as authorities are able to effectively capture and monitor the safety of public amenities such as transit hubs. The power of surveillance for public safety will encourage more Malaysians to take the public transports rather than driving their personal vehicles, thus reducing traffic jams. Where retails matter, Malaysians will be able to buy or sell by safely using the Pay-by-Face solution, which eliminates fraudulent practices. Besides, we can imagine and design the reality that the Malaysian immigration department is able to dispense and renew passport in record time that is even faster than the current practice. We can imagine and design the reality that the Malaysian healthcare institutions of both the public and private are able to synchronise, archive, and retrieve a patient's profile at the finger's tip. We can also imagine and design the reality that the National Registration department's data is consistently up-to-date, secured and accessible to other governmental agencies such as the Election Commission of Malaysia and the Department of Statistics Malaysia.

Essentially, the vision of building smart cities resonates with NEC Corporation of Malaysia. In partnership with Sunway Iskandar, we have set up a centre for excellence in Sunway Iskandar Johor. The Sunway Iskandar land is poised for the building of an integrated world class township, which will grant opportunities for Malaysians as knowledge workers in the Southern Region of Johor state, having the third largest local talents in the country. More than 400 Malaysian incumbents will be hired and trained to support NEC customers across Asia Pacific. With the readily accessible resources of universities under Sunway and NEC lab, there will be great advancement made in developing smart city applications by Malaysian knowledge workers in smart retails as well as digital identification and monitoring of people and vehicle.

Malaysia has come a long way where digital transformation is concerned. The population of internet user in Malaysia recorded a staggering growth by 880 per cent between 2006 and 2017. There were 2.5 million users in 2006 but 24.5 million in 2017. With one of the highest rates of internet penetration, it is a fertile ground for digital inclusion and opportunity. Mr Gobind Singh Deo, the Minister of Communications and Multimedia aptly warned that Malaysia needs to keep up with the latest developments or risk being left behind as technology changes rapidly. While it is laudable that the Malaysia Digital Economy Corporation has made great progress with Malaysia Digital Hub, Technopreneurship Programmes, the Digital Free Trade Zone, etc., there is still a great deal of work to be done. Certainly, the Ministry of Communications and Multimedia and the Malaysia Digital Economy Corporation are headed in the right direction by partnering with private sector in realising the digital transformation programme. However, there should be more of such collaboration and partnership between other governmental ministries/ agencies and private corporations who are eager to contribute towards the success of Malaysia' digital transformation.