Displaying present location in the site.
NEC i-Quarantine
Mobile Check-in & Case Management System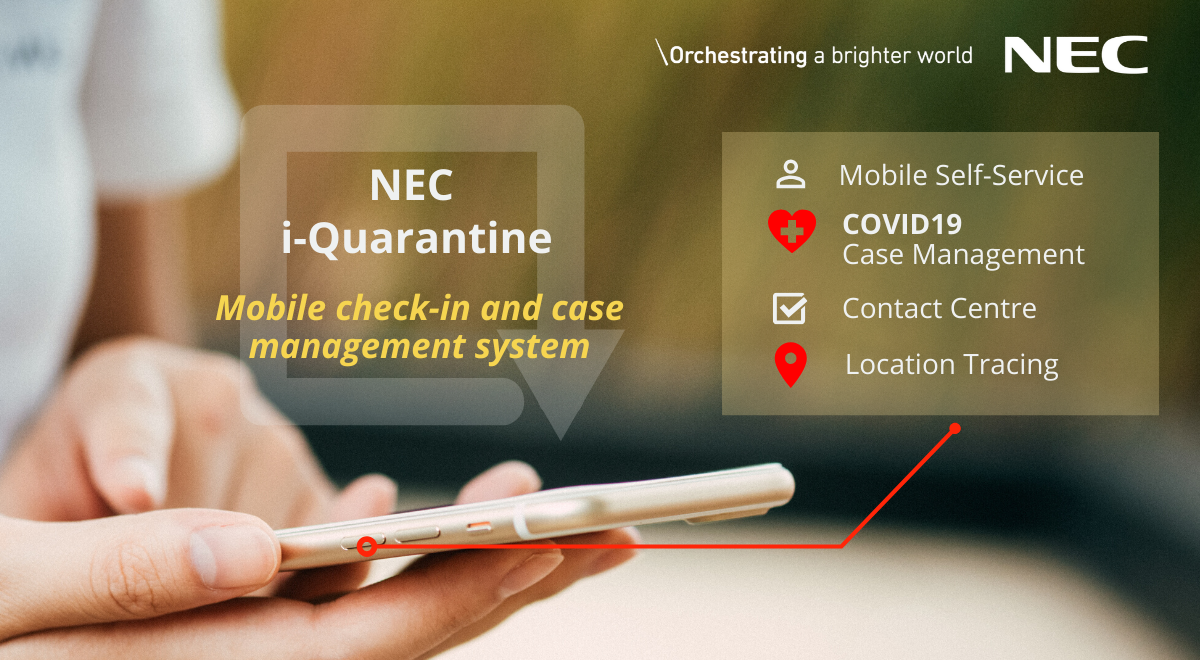 In response to COVID-19, many countries are trying their best to mitigate and control the risk of the virus being spread out to various places within the country. A major concern though is the unsettling anxiety as to when and where the next wave of outbreak will strike, which would have graver consequences to the nation's already suffering economy as the lockdown is stepped up. To prevent this from happening, it is imperative that the relevant authorities should have control over a centralised database that is able to track and monitor the suspects' current state of health and their whereabout while they are under quarantine.
As the speed of action is crucial in curbing and even pre-empting the next COVID-19 outbreak, the NEC iQuarantine System empowers the line of defence with the means to do so systematically and effectively in real-time.
NEC iQuarantine is a mobile check-in and case management system that allows users to report their location and health status up to three times a day from their own homes. Equipped with the user-friendly Outbreak Case Monitoring and Management Tool as well as the best Facial Recognition solution, the authorities are able to monitor and track those in the early stages of manifesting the symptoms of COVID-19 infection during the period of self-quarantine whereas the civilians are able to perform self-assessment of their own health development and receive prompt alert, advice, and care.
The NEC iQuarantine System can be deployed immediately to save the health, emergency, and enforcement services from being overwhelmed by the scale of COVID-19 rapid increase, which could escalate beyond control like what had happened in Italy recently.
In summary, below please find the various benefits of NEC I-Quarantine
1. A quick complete Outbreak Case Monitoring and Management Tool running in cloud with android and IOS mobile application.
2. Allows citizen in performing self-assessment.
3. Ability to locate individuals more effectively from a central system.
4. Monitor individuals and guide them on daily monitoring, capturing and update the centralized system.
5. A centralized real-time dashboard and monitoring of COVID-19 situation.
6. Uses Facial Recognition to correctly validate the real person for the status update.
7. Systems can be deployed immediately in within few days.