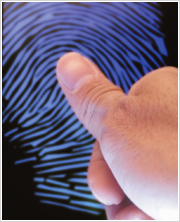 Security Solutions For Your Business
In today's complex and challenging security environment, both businesses and governments need to rely on growingly sophisticated access control solutions to guarantee the security of individuals and assets. You can now customize these advanced multi-biometrics solutions offered by NEC Asia to meet your security needs.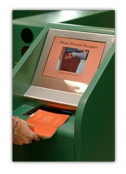 Biometric Automatic Card ID Kiosk
Biometric Automatic Card ID Kiosk is a solution that enables 1:1 identification via live print again print on card. It is hassle free and convenient but enables accurate identification every single time. The solution offers options to be integrated with NEC mobile ID systems

E-passport
E-passport is a solution that combines smart card technology and biometrics technology. A contactless card storing the traveler's identity information is embedded in his or her travel documents (e.g., passport). Biometrics information about passport holders will be authenticated against information on the chip, and details including fingerprint and/or facial data will be embedded in the chips for access later.NEC's biometrics technology enables system integrators and solution providers to create e-Passport solutions, utilizing the world's highest accurate fingerprint identification technology to verity the traveler's identity. NEC had successfully deployed the biometrics passport solution to both Hong Kong SAR and Singapore .
Facial Recognition System
The human face plays an important role in our social interaction, conveying people's identity. Using human face as a key to security, the biometrics face recognition technology has received significant attention in the past several years due to its potential for a wide variety of applications in both law enforcement and non-law enforcement. NEC's biometrics face recognition process has a highly diverse range of applications, extending from crime-fighting, border control, to access control for sensitive areas.
Facial Automatic Attendance System
Facial Automatic Attendance System is a solution that employs NEC's advanced facial recognition system to enable digitized, real time and accurate staff attendance. The entire attendance taking procedure is automated and the collected data is non-bias thus ensuring payroll accuracy. One of the most successful deployement of this solution was for Universal Studios Japan™.