IP Telephony For Your Business
Personalised Terminals to Meet Your Specific Requirements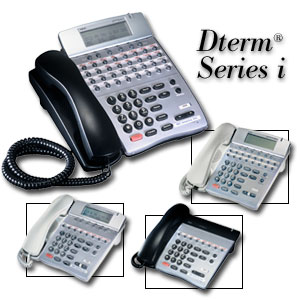 The Dterm® Series i Terminals are designed to provide ergonomic form and user-friendly functions. With advanced digital circuitry, the Dterm Series i consists of distinct models to meet users' diverse telephone terminal needs.
The Dterm Series i Terminals are designed for use with NEC's flagship Private Branch Exchange (PBX) systems, including the NEAX® 1000/2000 and the NEAX 2400. The Dterm Series i family of terminals is also compatible with the Electra Elite® Key Telephone System (KTS) product line.
Dterm Series i Terminals offer adjustable display and non-display units with menu-driven soft key operation, allowing users to program terminals at the desktop. Standard features include headset jacks*, wall mount units* and adjustable base units*.
The display units are equipped with large LCD panels with three lines of display, each with 24 characters. A 16-button backlit display version is available for installations in dimly lighted areas such as restaurants, night clubs, and residential applications. Easy to see in either dark or bright applications, the backlight feature may expand installation opportunities and markets.
The Dterm Series i Display Terminals have four soft keys located just under the display of each Terminal. These menu-driven soft keys allow users convenient access to many features. The state of the terminal will determine what soft key is available to the user. According to the status of the Multiline Terminal, functions of the soft keys are displayed in the third line on the LCD. If the status of the Multiline Terminal changes, the soft keys displayed will change automatically.
Dedicated function keys provide easy one-touch access to the most common telephone operations. These keys include: Feature, Recall, Conference, Redial, Hold, Transfer, Answer, Speaker, Microphone, Directory, and Message.
A detachable dial pad* allows for easy customization for a foreign language or for Automatic Call Distribution (ACD) application.
All Dterm Series i telephones are an ideal choice for both businesses and remote users in residential home offices. All Dterm Series i telephones are Class B devices and comply with U.S. FCC regulations for office and residential use, and with requirements of the Canadian Interference-Causing Equipment Regulations.
*These features not available on two-line or single-line model telephones.